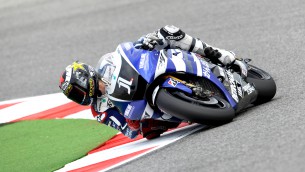 Yamaha Factory Racing rider Jorge Lorenzo wound up today as the pacesetter in the first day of practice for the Gran Premio Aperol di San Marino e della Riviera di Rimini.
The reigning World Champion struggled to find a good pace in the morning practice but worked hard with his crew to make key set up changes over the lunchtime period. The afternoon session saw the improvements fire him straight to the top of the time sheets, where he remained unchallenged for the entire session, leading at times by over second.
Lorenzo?s team mate Ben Spies was one of the men to beat in the morning session, clocking some impressive lap times. He was the fastest rider until the last seconds of the session; ultimately finishing up in second, just 0.286 from first. The afternoon practice was spent trying a number of different set ups for rider position, the Texan ending in fifth 0.54 seconds from Lorenzo in first.
Jorge Lorenzo:
?I feel much more comfortable on the bike this afternoon with the changes we made. The setting we used is very similar to the Mugello one, and I won the race there. To be honest, I didn?t expect such a big change because we improved more than one second. We are now quite close to a victory I think. Casey and Dani are still fast but at least we are there with them.?
Ben Spies:
?Not bad today, it wasn?t a great second session but we had to try a lot of things. We?ve been working a little bit on rider position since before Indy and we came up with a good direction for me. We tried to go more in that direction this afternoon but it was too much, so we lost a bit of the second session on it. Other than that we tried all the tyres we wanted to and went pretty fast with quite a lot of laps on them. Overall a positive day, we tried some stuff that worked and some stuff that didn?t. We need to work harder for tomorrow and improve some grip levels but the overall feel and speed I?m happy with.?
Source: http://www.zimbio.com/MotoGP/articles/h9vD4HmE6KW/Lorenzo+sets+pace+Misano
Tony Ponturo Phil Anschutz Herbert Hainer Dale Earnhardt, Jr Brian Roberts